There are multiple ways to take a payment in ezyVet, some are integrated while some are just for recording purposes.
How many payment methods do I need?
The first in streamlining your system is to determine how many payment methods are needed. Most practices will utilize at least 5 different types of payments; Cash, Check, Credit Card, Remote Payment, and CareCredit or Scratchpay. If you are using any type of coupons, you will need additional ones.
How to set up the various payments in ezyVet?
Navigate to Admin – Financial – Payment Methods. You will want to set up Cash, that will be linked in Xero to the Cash reconciliation account (clearing account or whatever you want to call it). We do not recommend this account be the actual bank account the funds are being deposited into as the reconciliation can be quite puzzling. Add your own icon, so it is easier for your staff to pick up the right payment. Green bills is a fun icon and works well.
We recommend that you do not combine the Check payment method with the Cash payment method. Keeping them separate will simplify end of day if your till is off. Believe me, everyone's life will be much easier if you utilize two separate methods. However, you can use the same clearing account for both in Xero.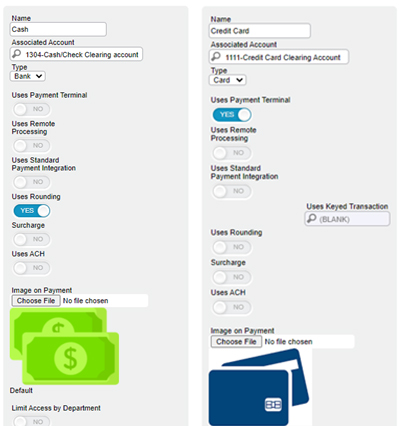 Credit Card – We recommend using an integrated solution, like PayJunction, for credit cards. It will significantly help with accuracy and you will be much more efficient. In Xero, create a credit card clearing account. (ACH, bank clearing). Make sure to follow the integration steps. Navigate to the Help tab in ezyVet and type 'payjunction' for more information.
Next, add Care Credit, ScratchPay payment types separately. Currently, there is not an integrated option in ezyVet. You will still need to log into your ScratchPay and CareCredit account to process a payment. In Xero, create a CareCredit clearing account. Make sure to make a journal entry no less than every month for the CareCredit transaction fees reported on the monthly statement. If you do not process very many, you may consider entering transactions fees for each transaction separately. We typically record the monthly fee total each month as a single entry. (Debit 7915 – CareCredit Service Fees (based on AAHA Chart of Accounts) and credit your CareCredit clearing account)
Finally,it is important to know that integrating Remote Payment in ezyVet is, currently, only possible if you use PayJunction for your processing (there is no extra charge). Accepting remote payments make it easier for clients to pay from anywhere. This became very handy during 2020/2021 when many practices were operating curbside. With remote payments, you can send your client a link through text or email, which allows them to pay directly. This is not just handy for a curbside pick-up, but it also works great for telehealth or when the lobby is full of people trying to pay for surgeries, picking up prescription, or picking up their boarded pet. No terminal needed! No extra devices! Think of It as the same as online shopping. Your staff will love it and so will your clients! You can find more information in this ezyVet blog.
Best Practices
Do you want to enhance your practice and be more efficient? It is always more efficient to use tools that talk to each other (integrate). ezyVet integrates with both Xero and PayJunction. For payments we believe it is the perfect combination. Why? There is no double entry. It saves your receptionist a lot of time, minimizes the opportunities for errors and helps with cash control. Incorporating Remote Payment in your practice can help you save time and make your clients happy. For curbside drop offs during the pandemic, this method will help keep your clients and team members safe. And, if you have previously stored a payment method in ezyVet, clients do not even need to re-type their credit card information. Now that's easy! We always recommend performing a daily reconciliation at end of day. Verify your cash and check intake, and for integrated solutions compare your credit card sales to the daily PayJunction report. It is very rare that there would be a discrepancy, but it takes 10 seconds to verify something that could give you a big headache later. Reconciliation of clearing accounts should be performed by your practice manager or bookkeeper monthly. Finally, if syncing issues arise between Xero and PayJunction, ezyVet will cleverly tip you off with a Xero tab.
Do you have questions? Are you having problems with set up? Are your reports confusing? We can help, reach out anytime.